Alec's Public 5th Birthaday Party
Here are some quick shots from Alec's Birthday party at McDonalds
We had the Pirate Theme!!
(I think the you can now click on them and they will enlarge--I didn't move these around in my blog)
Monkey See--Monkey do???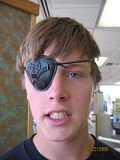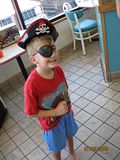 These are the teens that were supposed to be helping get ready for the party the night before...after the snail inncident--

They found the collar the vet made Handsome when I got him fixed--

This is AJ's friend trying to demonstrate that "He CAN lick his privates" even though I told him he has too many ribs!!
THEY WERE SUCH A GREAT HELP!!!!

WHAT DID YOU DO THIS WEEKEND??